Who are the most famous entrepreneurs in the world?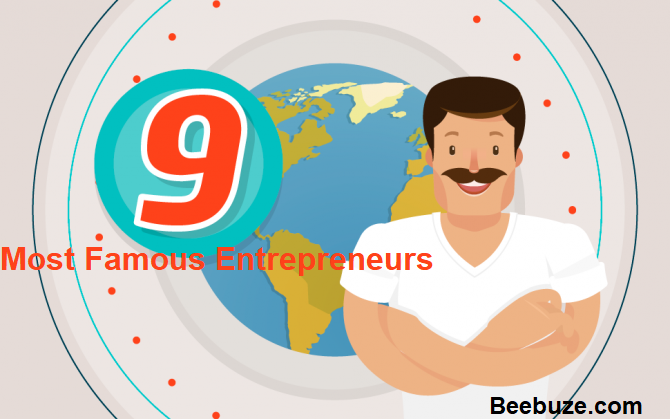 When we are starting a new business it is always good to be inspired by stories of other most famous entrepreneurs in the world who also decided to live off their passions and achieve the dream they have dreamed of.
Of course, each path is unique, but knowing more about the world famous entrepreneurs is a way to prove that you are on the right path.
Be inspired by knowing the stories of the most famous entrepreneurs in the world:

1. Henry Ford
Surely it will seem strange to you that we have put someone who lived from 1863 to 1947 on the list of world famous entrepreneurs?
The truth is that, despite being from a time very distant from ours, we could not talk about entrepreneurship without citing Henry Ford.
Founder of Ford Motor Company, Henry was a man who was far beyond his time. He devised and created the mass car assembly line that is still used today.
Its production system managed to reduce the cost values to create cars, a fact that automatically reduced the value of automobiles.
But, in addition, Henry Ford also took care of his employees and is well known for the high salaries he paid to the workers.
His story is inspiring mainly because he was an innovator in his market and had a global vision in a period when those ideas were not yet widespread.

2. Bill Gates
Even if you do not know everything about computers, you've probably heard of Bill Gates and you know he's one of the founders of Microsoft, one of the best-known software companies on the market.
Gates is not only one of the most famous entrepreneurs in the world with a fortune valued at around 130,000 million dollars, but he is also on the list of the richest men since 1995.
In addition to the creation of the Windows operating system, Bill Gates is one of the pioneers when the subject is laptops or personal computers.
Despite being very well known today, the story behind that brilliant mind was not always immediate success. Even, his first attempt as an entrepreneur did not have much future.
At the age of 17, Bill Gates developed software for reading magnetic tapes together with his colleague Paul Allen. However, due to the age of both, the clients desisted from investing in the business.
His initiative as an entrepreneur only worked after a few years, when he was a Harvard student, and again with Paul Allen. This time they created a BASIC language interpreter, which was finally commercialized successfully in the United States.
Afterward, the road to the summit was increasingly clear.

3. Vera Wang
Maybe you're thinking: how is it possible that a wedding dress stylist could be one of the most famous entrepreneurs in the world?
Besides being the mistress of the famous when the subject is wedding clothes, Vera Wang is also well known due to her "out of the box" thinking.
In spite of dedicating themselves to something so traditional, like a wedding dress, its pieces are considered true works full of brightness and always very playful.
Her enterprising mentality made her realize that the audience she could reach was not limited to her hometown, New York.
That's why, since she started opening her stores, Vera Wang was concerned about globalizing and, thus, expanded her business to several other countries. At present, it already has stores in 5 continents.

4. Mark Zuckerberg
Besides being well known for being one of the founders of Facebook, Mark Zuckerberg is also an entrepreneur and visionary, since he has an economic commitment to advancing human potential and promoting equality.
Zuckerberg is one of the entrepreneurs of the world not only for creating technological innovations that attract the attention of people but especially for its philanthropic side.
His donations to public schools and small businesses with innovative ideas make him a fundamental piece for the incentive to technological development and learning.
For Mark Zuckerberg, the greatest legacy he can leave is a better world not only for his daughter but for the entire next generation.

5. Steve Jobs
You probably already know that Apple was the company that revolutionized the personal computer industry and the name behind this great brand is Steve Jobs, an American most famous entrepreneurs and founder of that great company.
His story to achieve the success that Jobs enjoys today has gone through many ups and downs including even a resignation from his own company due to his sales tactics considered very aggressive.
However, Steve Jobs did not desist. After leaving Apple, he created a software development company that was bought by the Big Apple after 10 years.
And if you think that Apple's resignation was the reason for you to give up your own company, you cheat yourself.
In 1997, he returned as CEO and only left office in 2011, a few months before he died.

6. Elon Musk
Despite being described as crazy by some people and genius by others, Elon Musk is one of the most famous entrepreneurs cited names when the subject is technology and more specifically flying cars.
But do not think that Musk's career is restricted only to Tesla, a company he founded and specializes in electric cars, solar panels and energy storage.
Paypal, an online payment system known worldwide is also one of the successful companies that bear his name as a founder.
Besides being a billionaire, Elon Musk is also a visionary, since his ideas have changed the way the market sees the solar energy industry, space flights and artificial intelligence.
Of course, he still has a way to go until he has finalized all his futuristic ideas (which no longer seem so futuristic …). But one thing is true: the world is watching its next steps to see what it is still going to conquer.

7. Jeff Bezos
Trained in electrical and computer engineering, Jeff Bezos is CEO and President of Amazon.
Since childhood, Bezos already showed interest in the scientific and technological area and, therefore, participated in student programs aimed at this field.
After working for a few years on Wall Street with the financial market, Jeff Bezos decided to invest in what he liked and created his own business: a book trading company.
The global and expansionist vision made that Bezos did not limit Amazon to a single type of commerce. Today, the company markets a wide range of products and is investing even in video and audio transmissions.
Perhaps it is one of the reasons that led him to be considered the richest man in history in January 2018.

8. Howard Schultz
Even if you've never had a coffee at Starbucks, you must have heard about this company that already has 25,000 stores in 75 countries and always appears in movies and series.
Howard Schultz is the most famous entrepreneurs behind this great brand that revolutionized the way people drink coffee.
Despite having a difficult history and a lot of struggle, mainly in childhood, the period when Schultz lived in popular houses in Brooklyn, he did not allow that to be an obstacle to study and change his life.
After having a degree in communication, Howard Schultz worked in a tool store that had as customers the then owners of Starbucks.
In 1981, he met Gerald Baldwin and Gordon Bowker and convinced them to hire him as director of sales and marketing in the cafeteria. But do not think you became the CEO of Starbucks overnight!
Schultz left his position as director to open his own coffee company and some years later, when Starbucks went through financial difficulties, he bought it.
His visionary vision made him realize that he could not continue alone with the 6 stores he had and, thus, in 5 years, he opened 165 stores.
Afterward, the expansion process was only extended until it reached the empire that Starbucks is today.

9. Jorge Paulo Lemann
We could not finish our list of the most famous entrepreneurs in the world without talking about a Brazilian.
With a fortune estimated at 30 billion dollars, Jorge Paulo Lemann is an entrepreneur that you deserve to know.
At age 76, Lemann is the person who leads major brands such as Burger King, AmBev and Heinz. But his entrepreneur vein goes even further!
Today, Jorge Paulo Lemann also invests in technology companies, such as Snapchat, as well as Movile, the company responsible for applications such as iFood and PlayKids.
And you, have you already started to undertake?
After reading more about these 9 most famous entrepreneurs in the world, surely you are thinking seriously about starting your own business.
Of course, it is not easy to abandon everything to start. But when you prepare before and you are sure that you want to live from what you are planning, you manage to overcome adversity with more wisdom and control.
The stories we tell here are all from people who have a physical business. But did you know that it is possible to be an entrepreneur without having to necessarily open a store?
You may also love to read mother of the bride hairstyles.