How to motivate child to do homework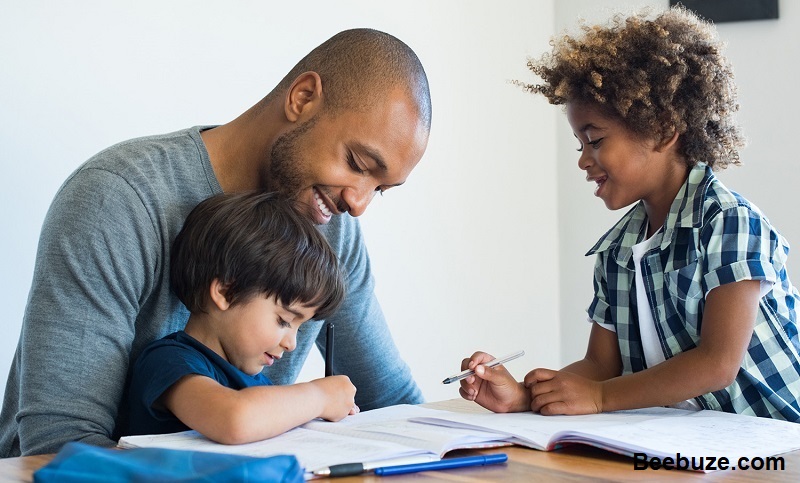 In most elementary schools, children begin to bring homework that should be completed throughout the week to reinforce learning. The vast majority of homework can be done by themselves as the teachers help them explaining the topics very well. But sometimes, they need a little help from parents, who do not always know how to motivate child to do homework.
The school tasks are not complicated, but when we have to explain to the children any questions they have, we do not know how to do it as well as their teachers. Others also have to face the arduous task of sending children to do their homework when they do not feel like it, reaching overwhelming conditions that can negatively affect child development.
If you are not clear about how to help your children with homework, what is your role as a father or mother in this task, or how to encourage your children to study on their own and not cost horrors to do their homework, the experts They give us some guidelines to apply at home so you can help them in the most appropriate way.
How to motivate child to do homework
Follow these tips and you'll see how easy it is to get your little ones to become studious children:

Give them a study area
In order for a child to have more time to do his homework and to study for exams, he needs to do it in an area where they feel comfortable. Create a study area for your children free of distractions in which they can do quiet and silent homework and have at hand what they need at all times.
All you need is a large table and a comfortable chair in a relaxed atmosphere. Before getting down to work, remind them to organize themselves by putting everything they need such as books, notebooks, their case, and a dictionary in Spanish or English, which never come badly for language and language tasks.
Establish a routine
All primary school children need a daily study routine to adopt this practice in their day to day activities. You have to mark the times in which your children must do their homework and study.
You can set the study time right after arriving in class, in the afternoon after the snack, but as early as possible once they arrive home. So that it is not too tedious for them to do homework at the end of the day when they are most tired. It is a very useful tip for those parents who do not know how to motivate child to do homework.
Doing so, children will understand that homework and study are part of their day to day, such as meals, bath time and bedtime, so necessary that they cannot be skipped.
Show yourself available
The duties of children are not complicated. The vast majority can do them alone with what they have learned that day at school, but if they need help, you must be available to them.
This does not mean that you have to be doing homework with them every day, only when they need you. Children must learn to be responsible and learn for themselves since this is the function of homework for children, but when they have problems to solve an exercise, it would not be bad for them to have their parents nearby.
Contact your teachers
You do not necessarily have to talk to the teachers every week to find out what they are doing in class and what their teaching method is. But if your child has difficulty in any subject, do not leave it alone and worry about solving it by asking for help from his teachers.
It is enough that you are informed of what they are doing in class.  You do not miss the meetings of parents in the school and you worry about the notes of their exams and work to detect any problem before it arrives. Do not make it like at the end of the course, it's too late. Apply this tip if you want to know how to motivate child to do homework.
Do not do homework for him
The duties of the child must do by itself and this is one of the mistakes that parents can make without realizing. You can help him, but never complete the exercises for him so that he can go faster or give him better grades at school.
The role of parents is to help children understand their homework and can do it on their own. Your job will be to provide an adequate work and study environment, your explanations and your help, but not to organize everything for them, because that way you will not learn to be self-sufficient.
Uses study methods
In the primary stage, study techniques are not usually taught in class. Parents who do not know how to motivate child to do homework, follow this tip. You can help your children by explaining how they should do it.
Remember how you studied at school and transmit the same method to your children. You can underline, make schemes, dictations, summaries, rules of memorization, making cards and even recommend the best reliable sources so that they can extract extra information to study or do their jobs.
The more prepared the children are the easier it will be for them to get good grades at school and in their subsequent studies.
Motivate
In addition to teaching, parents also have to motivate children when it comes to studying and doing their homework. Communicate with them, talk about what they are doing at school and feel interested in their work so they can see what they are doing is important.
When a child does things well, there is nothing like rewarding them for an impeccable job or for overcoming themselves. A few words of encouragement and pride are more than enough when it comes how to motivate child to do homework. But once in a while, it is also not bad to give them a tangible prize, such as a family weekend, going to the movies, making games sessions, or buying them something they like, for that they feel motivated to do well in school and in doing their homework.
It is difficult for us all at first to get used to acquiring responsibilities as we get older, and in the case of children, schools increasingly send more duties that can be tedious for children.
But with a little patience, always respecting the rhythm that each child has in their learning and when doing their homework, we can achieve great success in their academic performance.
If you liked the article "How to motivate child to do homework", do not miss the other articles in the same category. You'll love it!