Romantic breakfasts to surprise your partner with special breakfast recipes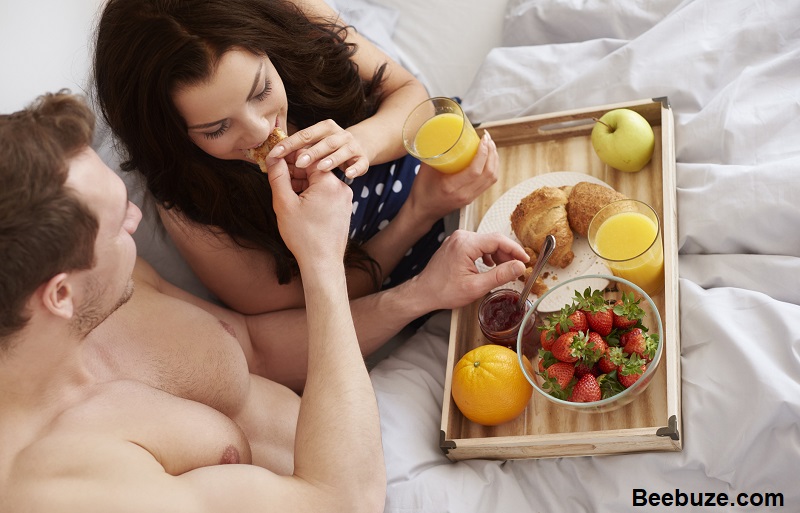 Today I want to propose a wide variety of romantic breakfasts of all types to prepare in a simple way and enjoy a unique morning with your loved one.
Is a very special day coming and you still do not know how to surprise your partner with special breakfast recipes? I have made a collection of recipes to surprise your partner, which you can do separately for several breakfasts, or combine some of them within the same meal. Enjoy them in bed will be a real pleasure and even some you can take home if you have to prepare them at home and then take them to your boy or your girl's house.
Take note of these easy romantic breakfasts, with special details that will not go unnoticed. Follow the step by step on how to prepare a good breakfast, easily recreating your favorite recipes. Let's go there!
7 Romantic breakfasts recipe

American pancakes with syrup and fruit
When you do not know what to prepare for your partner's breakfast, try one of the easiest and most delicious sweet dishes: the American pancakes. Of all the recipes for couples is my favorite and they are perfect for preparing a romantic breakfast recipe according to the rest of the ingredients you add.
Ingredients
2 eggs
50 g of butter
50 g of sugar
200 g of wheat flour
250 ml of milk
baking powder
vanilla
Preparation
Separate the yolks of the whites to beat separately and make the dough fluffier. Start beating the yolks with the sugar, and add a few drops of vanilla aroma.
Add melted butter to this mixture, milk, and stir well.
In a separate bowl, sift the flour with the baking powder.
Beat the egg whites to leave them to the point of snow, and once the mixture is firm and fluffy, add the rest of the ingredients to make a home-made dough with everything together.
Put some butter in the pan to grease it, and with a spoon soak a bit of the mixture in the center to make the pancakes one by one. Turn them around and turn them around and serve them on a nice plate.
Accompaniment
To make an original romantic breakfast for my boyfriend, I always accompany the American pancakes with other ingredients that can be to your partner's taste. Add liquid caramel, honey, chocolate syrup, as well as chopped fresh fruit, nuts, chocolate chips, or whatever you want.
Do not forget to accompany with a fresh coffee or tea, an orange juice, and any other food that your partner likes to have a full breakfast. Enjoy together!

Stuffed crepes
Another special breakfast recipe to surprise your partner is the French crepes that can be filled with any ingredient you want. You can make sweet crepes or salty pancakes, however you like.
In addition to a rich breakfast for my boyfriend, it is also a very easy recipe to make, perhaps the simplest of all, and it will not take you long.
Ingredients
2 eggs
50 g of butter
5 g of sugar
125 g of wheat flour
250 ml of milk
a pinch of salt
Preparation
Start melting the butter in the microwave just a few seconds to make it liquid.
Mix in a bowl the milk, with butter and eggs, and whisk everything.
Sift the flour while you add it to this mixture, then add the sugar and salt. Mix well to make a homogenous paste that will remain liquid.
Spread the skillet with a pinch of butter, and cover the bottom with a spoonful of the very thin mixture so that the pancake is made a few millimeters. Turn it over and back, and remove the pancakes by putting them on a plate.
Accompaniment
These easy-to-make romantic breakfasts can be accompanied by other sweet or savory ingredients. Fill the crepe with chocolate sauce, with ice cream, fruit, honey, or any other sweet food that you like.
To make a salty crepe, you can put ham and cheese inside, and heat a little in the pan to melt the cheese or add cream cheese, pate or any other mixture that you like to accompany the pancake.
Combine with a coffee or tea or with a glass of hot chocolate, plus a little extra fruit or fresh fruit juice to complete a healthy and balanced breakfast.

Scrambled eggs with mushrooms and ham
One of the best birthday special breakfast recipes for my boyfriend that I most often recreate is the scrambled eggs. But an egg dish is not complete if you do not add a little bit of vegetables and some ham to give it a delicious flavor. Do you dare to recreate this romantic breakfast of champions to start the day with strength?
Ingredients
2 eggs
200 g of mushrooms
50 g of ham cut into cubes
chopped parsley
Pepper
Salt
extra virgin olive oil
Preparation
To make these dishes easy and fast, start by thoroughly cleaning the mushrooms, and cutting them into thin strips. Put them in the pan with a little olive oil to make them go.
Meanwhile, beat the eggs, setting the egg whites separately if you want the more spongy mixture to remain and then add the mushrooms in the pan when they are well cooked.
Add salt and pepper, keeping in mind that the ham that we add next already has a salty point.
Finish by putting the chopped parsley, before giving a few more turns to the scrambled, because the ham does not need to cook too much. Serve on a nice plate with some bread.
Accompaniment
These easy recipes to surprise your partner should always be served with a good coffee to wake up, and an orange juice to fill with vitamins. It is a perfect recipe to get energy and spend a day with your ideal lover.

Fruit salad with granola and yogurt
When I want to make a surprise romantic breakfast for my boyfriend, I love to improvise with fruit. Instead of resorting to the classic sweet pastries, the fresh fruit gives that sweetness point that appeals so much in the morning and is much healthier.
If you also add a little protein and carbohydrates that provide a lot of energy, it is one of the most delicious special breakfast recipes in the world.
Ingredients
Fresh fruit
Nuts or chocolate
Natural yogurt
Preparation
The bowl of granola with fruit is a simple thing to cook in the morning. You just have to start washing, peeling and cutting your partner's favorite fruit. Try strawberries, apple, kiwi, blueberries, maybe some orange, peach, melon, mango, and seasonal fruit that is ripe and sweet.
Put it in a bowl to add a few spoonfuls of plain yogurt on the fruit.
Crown the breakfast bowl with a handful of granola or toasted cereals, with nuts and some chocolate chips to taste. And that's it! Plate ready to eat!
Accompaniment
The bowl of granola and fruit is one of the most complete romantic breakfasts and it fills so much that you do not need to add anything else to start the day right. Just do not forget a cool drink, which can be coffee, a juice, or perhaps your boy's or your girl's favorite tea.
The key to surprise with a rich breakfast for my boyfriend is to choose his favorite ingredients to assemble the full bowl, and place everything very carefully so that it looks nice and appetizing.

Homemade waffles
If you want to make nice breakfasts and do not mind having to spend a little more time in the kitchen, you have to try one of the best romantic breakfasts to surprise your partner.
Waffles are not the most recommended healthy and special breakfast recipes, but if you make them at home, and take them once a year, it does not hurt, and they enjoy themselves in bed as a couple! You have to try to make them, because you're going to love them.
Ingredients
250 g of flour
25 g of fresh yeast
150 g pearl sugar
200 ml of milk
100 g of unsalted butter
10 g vanilla sugar or vanilla essence
2 egg yolks
2 egg whites
Preparation
Put the milk in a saucepan and add the butter. Reserve a little milk for later.
Once the mixture is hot, without bringing to a boil, remove from heat and let cool a bit to add the egg yolks one by one and stirring.
The rest of the milk is put in a small glass and heated in the microwave, we dissolve in it the fresh yeast.
In a bowl, we put the sifted flour, salt and vanilla sugar. We add the milk with the egg yolks and the milk with the yeast. Mix everything well to make a dough. Let stand about 30 minutes until the dough rises.
Once it has gone up, we add the pearly sugar and mix. Meanwhile, we assemble the egg whites and add them to the dough.
This dough is what we have to put in the waffle maker, leaving it to be completely roasted until we have the delicious waffles.
Accompaniment
If you want the waffles to be crispy, put less dough and make them finite. But if you want them to be spongy, leave them more time in the waffle maker with more quantity of dough. Accompany with red fruits to contrast the sweet taste of the waffle, and a little cream or cream.
The classic thing is to take the waffles with coffee, but in the morning they also feel very good with a natural juice, and even with a delicious glass of milk with cocoa. How would you take it?

French toast with honey
One of the rich and easy-to-make romantic breakfasts recipe that always triumphs between couples are the French toast. It is a very romantic, sweet and delicious dish, and one of the easiest things to cook that you will enjoy the most.
If you have never made a French toast, it is a dish very similar to the typical Spanish torrijas, but with a much more special touch to make more special breakfast recipes. Let's go find a very special romantic breakfast!
Ingredients
Bread slices
300 ml of milk
2 eggs
50 g of sugar
vanilla aroma
Preparation
We start the special breakfast recipe by beating the eggs in a bowl. Add the milk, vanilla and sugar in the bowl and mix well.
We put slices of bread in a platter or tray, and soak it with the previous mixture. We leave a while for the bread to be well wet.
Meanwhile, in a pan we put a little butter and heat. We are going one by one the wet slices, to make them turn and turn until they are well roasted and golden.
Accompaniment
My secret to making French toast ideal for romantic breakfasts is to add a little powdered sugar on top, in addition to cinnamon. The Cinnamon is aphrodisiac, icing sugar and gives a delicious flavor. They can also be accompanied with honey or syrups if desired.
Being such a heavy dish, I like to serve it with a lighter fruit juice, or with a tea. It is delicious accompanied with a grape or apple juice, more acid in contrast to the sweet of the dish.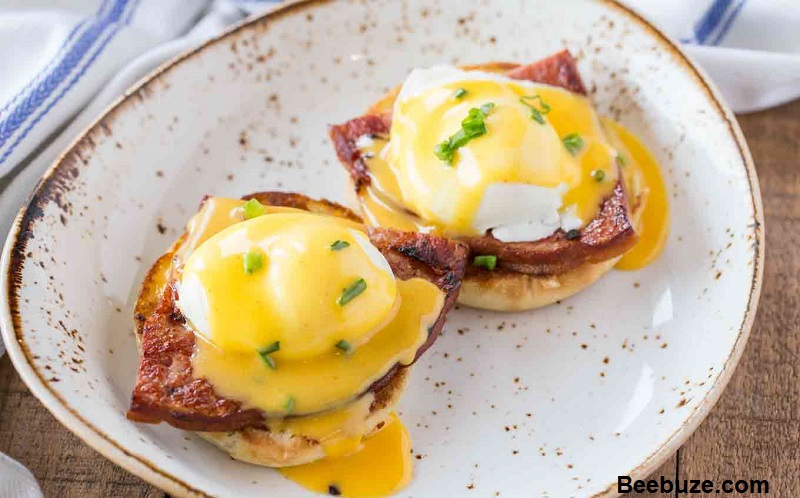 Benedict eggs
The last of the quick and special breakfast recipe that I propose is one of the most taken anywhere in the world. It's a rich breakfast for my boyfriend that I do on special occasions on weekends, because he likes it a lot.
The Benedictine eggs are a very complete dish, with many types of ingredients, but easy to make and much faster than it seems. One of the best romantic breakfast!
Ingredients
2 eggs
2 slices of ham
1 bun of English bread, bagel or white bread muffin
60 grams of fresh spinach
3 egg yolks
200 g of butter
1 glass of white wine
Salt
Pepper
vinegar
Preparation
Put water to boil to make the poached eggs. To make them perfect romantic breakfasts, add a little salt just when the water breaks to boil, a splash of vinegar, and break the egg to fall into the water.
Prepare while the bread, cutting it in two halves, to then place the eggs on it.
Make the ham in the pan back and forth, and then pass the spinach previously cooked in water, for the same pan to sauté a little. Spinach is optional.
Put the ham and spinach on the eggs with a little salt.
Prepare a hollandaise sauce putting egg yolks and a little white wine in a bowl. Assemble the yolks with a blender, then add the melted butter little by little. When you have a well-mounted homogeneous cream, add a pinch of pepper, salt and vinegar to finish assembling it.
Put the hollandaise sauce over the eggs benedict and serve directly.
Accompaniment
The Benedictine eggs are typical  English breakfast and can be taken with a good coffee or tea. At brunch time, it is usually taken with an orange juice, and at the same time with a glass of cava or any sparkling wine.
If you want a meal of kings, and one of the romantic breakfast that your partner will never forget, get down to work and surprise him because this dish will delight you.
Details to complete your romantic breakfasts
Once chosen the individual recipe or combined special breakfast recipes to make breakfast to fall in love, there are also a number of details that you cannot escape to make your breakfast in a much more special couple:
Take him to bed
Do not let your partner get out of bed while you are in the kitchen to prepare a special breakfast recipe, let him enjoy those moments of rest to the fullest, and then take him to bed to share it with you.
Prepare a complete tray
Choose a comfortable and large tray to use in bed, with all the necessary accessories so you do not have to move once you are both eating. Napkins, cutlery, drink, and lots of varied food.
Decoration
 Just as the table has to be decorated and dressed appropriately for a special date, the breakfast also has to be well accompanied. Serve with beautiful and elegant tableware, well-presented dishes, cloth napkins. Choose a pretty flower or a small bouquet of flowers to finish the decoration of your breakfasts to surprise your partner.
Much love
Any romantic breakfast at home that boasts cannot be short of kisses, caresses and a lot of love to your partner. If you have done your job well, after breakfast for a couple you should always enjoy a romantic session of morning sex, once you have your batteries fully charged.
With all these ideas to make romantic breakfasts for your partner, surely you manage to surprise him like you have never done before. You have such a variety of easy breakfasts that you can repeat each morning as many times as you want. Do you dare to practice these special breakfast recipes?