Stunning Fireplace Tile Designs That Will Transform Your Living Room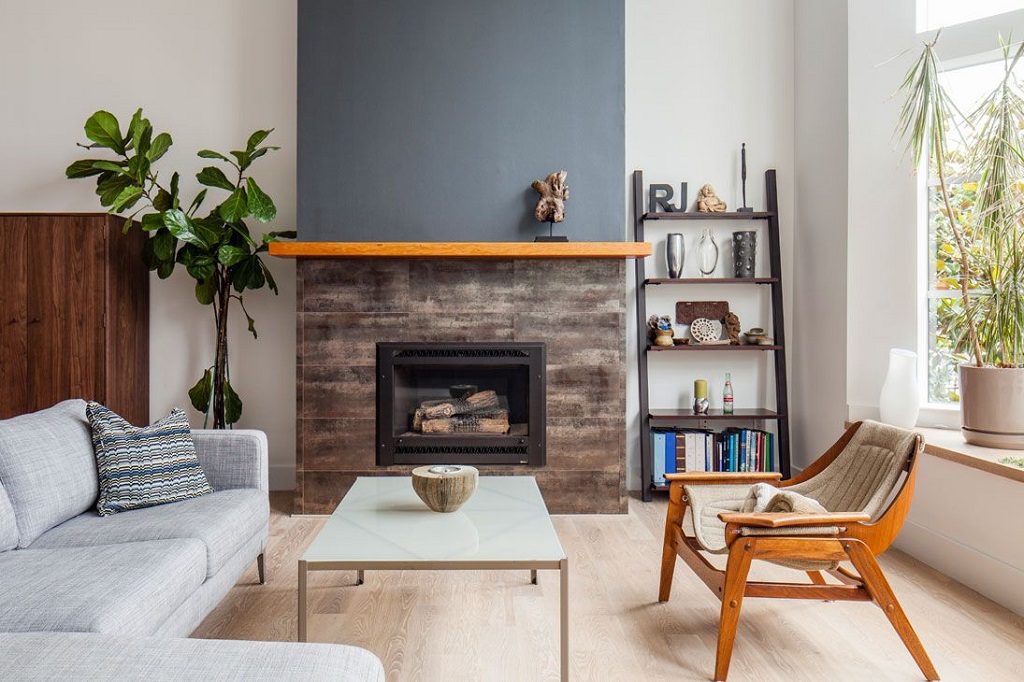 From natural stone to marble mosaic tiles, a fireplace redo allows you to add a sense of old-world charm or rustic character. The color, size, layout options, and textures of your fireplace tiles can make or break a room.
Large-format tiles can fill a room with a seamless design that makes a statement, like the gold porcelain herringbone tiles in this modern living space.
Textured Tile
The thing with plain-colored tiles is that they can look flat and uninviting. But textured tile can bring much life to your living room and improve the home decor.
Whether it's a patterned tile, herringbone, or something else, adding texture to your tiles can help create a more exciting and inviting living space. Textured tiles are also great for breaking up a monotone color palette, so adding a bit of boldness can pop and stand out if you're using primarily neutral colors.
Many textured tiles are made by pressing materials that give a textured effect, like natural stone or wood, into a mold, then glazing and firing them. The result is a fireplace tile with a texture that mimics the appearance of that material, and it can be used in just about any home design style.
Geometric Tile
A geometric tile pattern is an excellent way to create a stunning focal point for your fireplace. The chevron style pairs well with a gothic-style mantle for a look sure to impress your guests.
Consider using a textured tile for a more subtle design element that still catches the eye. The ribbed surface of this ceramic tile brings an earthy feel to the hearth while complimenting the wood trim above. For an even more unique texture, try a mother-of-pearl mosaic tile. This natural material carries an elegant charm that will transform your living room.
Another great way to create a custom look is to use herringbone tile for your fireplace. This zigzag-style tile pattern is easy to achieve and gives your home a stylish edge. You can also find various herringbone tile color options to complement any color palette.
Whether you prefer cool minimalism or decadent maximalism, there's a tile design that can perfectly suit your style. Select a heat-resistant tile material that can match the elements of your fireplace and living room. 
Herringbone Tile
Herringbone tile is a significant design trend that is transforming homes. This beautiful staggered pattern is perfect for kitchen backsplashes, floors, and more. A herringbone pattern is similar to the chevron but with a different layout and dynamic geometric motif. Both patterns add energy and a sense of movement to any space when used in the proper application.
A herringbone pattern can create a unique accent wall or an entire room. It is a great way to add character to your space without going over the top with a complete design overhaul. You can also use herringbone tile on a floor to give the appearance of a larger space or make a low ceiling appear higher.
One of the best things about herringbone tile is that it works well with various design styles. It can complement rustic/traditional spaces as well as modern/contemporary. When using herringbone tile on a floor, you want to ensure that the pattern is evenly placed throughout the room to look consistent.
Laying a herringbone tile pattern is relatively easy. You start by finding the wall's center point or flooring surface you are working with. Depending on the project, you can decide where to begin tiling. After tiling, you can use spacers to keep the herringbone pattern neat and even.
Luxury Wood Vinyl
If you want the look of wood or stone flooring but want to avoid dealing with the hassles of maintaining natural materials, consider luxury vinyl tiles (LVT). This durable option is moisture-resistant and easy to clean, making it ideal for living rooms.
The latest styles in LVT are designed to mimic more realistic hardwood or stone flooring. One of the hottest trends is herringbone and chevron patterns. These patterns are made by cutting long vinyl planks and aligning them to create the pattern. By doing this, the seams between each piece are less noticeable.
Another popular design trend in vinyl flooring is long, wide planks. This style makes the room feel larger and more spacious and works well with open-concept living spaces. It is also a great alternative to laying carpet in an ample space as it's much easier to install.
Alternatively, you can choose to go with a random pattern. This arrangement of tiles is aimless and works well with many different product designs. It is especially suited to vinyl kitchen floors as it can help to make the room feel more elegant and spacious. It is also an excellent choice for small kitchen ideas as it will help to open up the area and can be easily paired with white cabinetry.