Advantages of Modular E-House Manufacturers Over Traditional Stick-Built Construction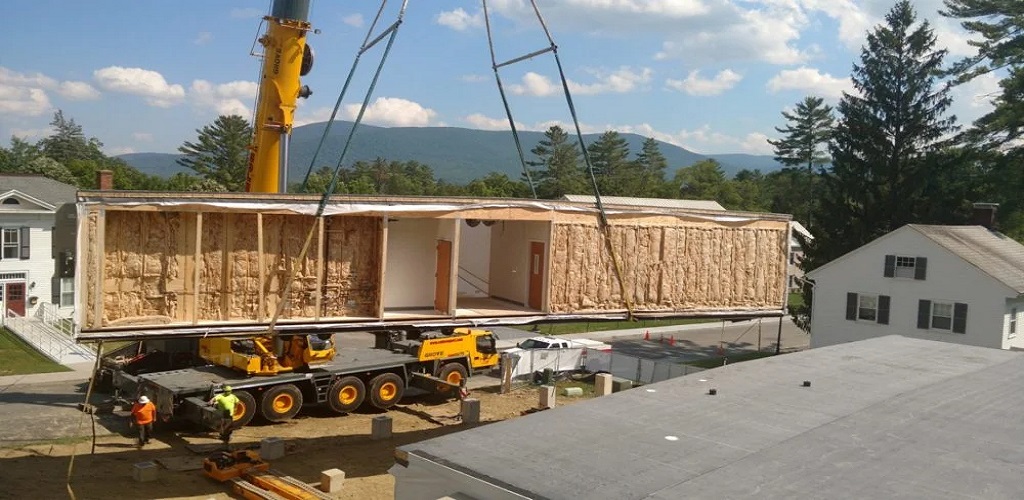 E-houses, or electrical houses, are modular enclosures that house high, medium, and low-voltage power distribution equipment. These buildings are a great option for industrial projects that require temporary power solutions. Choosing a modular e-house manufacturer has many benefits over traditional stick-built construction. In this article, we will explore some of the most important ones.
Cost-Effectiveness
E houses are pre-fabricated walk-in enclosures that house high, medium and low voltage electrical, control and safety components and auxiliary equipment. They can be fabricated in various sizes and styles to meet environmental and application requirements. E houses are designed to protect equipment from harsh environments and reduce the risk of power failures, which can result in costly repairs. The construction of an E-house can be completed off-site, significantly reducing overall lead times and improving project management efficiency. It is also less vulnerable to weather delays, frequently delaying the completion of built projects, especially in regions with a lot of rain. The manufacturing process is controlled by a single OEM supplier, which removes the need for multi-disciplinary contractors to be present on-site.
Modular E-house manufacturers offer a highly efficient and cost-effective solution for various industries, including oil & gas, mining, wind power, solar energy, water treatment, etc. They are a cost-effective, risk-free alternative to conventional concrete block and stone buildings and can be delivered as a complete plug-and-play system. Each modular E-house is custom engineered to suit particular requirements, such as equipment size and on-site footprint constraints. These electrical buildings can be fitted with various products, such as low and medium-voltage switchgear, variable-speed drives, dry-type transformers, relay panels and busbar trunking systems.
Faster Construction Time
Unlike traditional on-site construction, E-Houses are built off-site to complete projects quickly. The project team has more control over the construction process and can avoid the risk of weather-related delays and costly schedule overruns. The entire construction process is streamlined. Instead of hiring multiple contractors and subcontractors to complete the project, a single manufacturer like BMarko Structures will manage every aspect, from engineering to fabrication and installation. It reduces the number of on-site people, improving EHS performance and increasing productivity. It is particularly helpful for industrial clients who must meet tight project deadlines and budgets. Compared to a conventional brick-and-mortar substation, an E-House can be built in half the time. The equipment is fabricated and wired before it arrives on site, cutting down on the labor needed. The client pays to-shop rates instead of field and per diems, saving significant money in the long run. In addition to speeding up the construction process, modular E-Houses are also safer. The entire construction and assembly process takes place in a controlled environment, reducing the chance of inconsistencies or mistakes that might occur during the on-site installation. The process is also faster and more efficient, allowing for more person-hours on other aspects of the project.
Safety
An E-House is a pre-fabricated walk-in modular enclosure that houses medium and low-voltage switchgear, Marshalling cabinets, Battery banks switchgear, and other auxiliary equipment. These electrical houses protect and control important technological processes like manufacturing, mining, energy generation, etc. They can be supplied with power through an auxiliary transformer installed inside the E-House or from external sources. Modular E-House manufacturers can offer various design options that allow you to customize your project. They can also help with system design and engineering. It ensures the final product will be built exactly to your specifications and needs. Using a modular E-House manufacturer has the benefit of allowing for up to a 50% reduction in construction time and expense when compared to conventional stick-built structures. It is because most of the work occurs at a factory, where weather conditions are not a concern.
Additionally, they can provide a safer working environment and minimize the personnel needed to oversee construction at the site. Lastly, E-Houses can be designed to include multiple electronic devices, such as VFDs, harmonic filters, and circuit breakers. These systems are monitored and controlled through a programmable PLC, which passes instructions to the corresponding equipment via wires. These cables are typically prewired and terminated in junction boxes or gutter systems for easy connection on location.
Customization
Thanks to their modular architecture, e-Houses may be modified to meet a project's unique requirements. It can include features like air handling systems, power distribution, and communications infrastructure. This customization helps reduce the risk of failures during operation and minimizes downtime. Additionally, it can help meet industry requirements and comply with environmental regulations. The demand for E-houses has increased due to the rapid development of renewable energy. In addition, oil and gas projects often require specialized equipment in remote locations. It has led to the adoption of E-house solutions by a variety of industries. Manufacturers of modular E-houses can create pre-fabricated power substations tailored to their customer's requirements. They are also able to deliver the equipment on time and budget. It saves time and money for the client, who can pay shop rates for the fabrication instead of paying per diems and field rates.
Another benefit of using a modular E-House is that it can be delivered to the site ready for operation. It also minimizes the risk of construction delays, a major concern for industrial projects in remote areas. E-houses can be custom-built to meet a project's unique requirements, including specific ratings and environmental conditions. For example, they can be built to operate in harsh or hazardous environments. It is an important consideration for oil and gas companies that use in remote areas where the quality of construction is critical to the safety of their personnel and equipment.