The Benefits of Implementing a CPQ Configurator in Your Business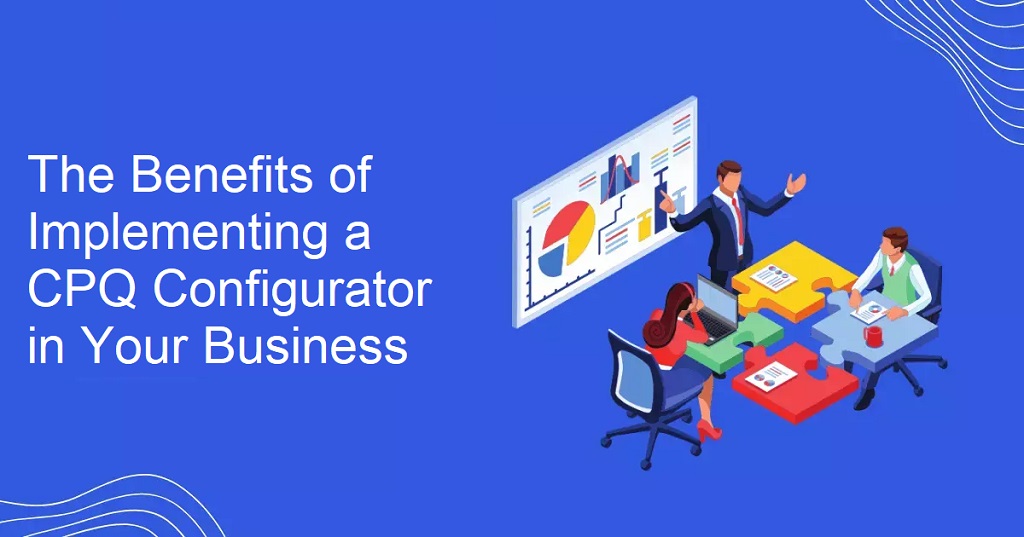 A CPQ Configurator is essential for companies selling complex or configurable products. But implementing one is no small feat.
Having clear goals and an ambitious vision is essential for a successful implementation. This helps secure stakeholder alignment and ensures that everyone understands the scope and ambition of the project.
Streamlined Sales Process
A CPQ system is designed to automate the process of generating accurate purchase orders tailored to each customer's unique requirements. It eliminates bottlenecks caused by manual quotes, reduces sales reps' time spent on quoting, and allows you to unlock more cross-selling and upselling opportunities.
CPQ solutions can also be configured to streamline the flow of information between other business systems so that a quote can be sent for approval and payment and then subsequently entered into the company's accounting software to recognize revenue and fulfillment processes to begin. Integrating these systems also means that quotes won't have to be manually re-entered into each separate system, which could lead to errors.
With a sound CPQ system in place, it can also help eliminate pricing errors often resulting from a manual quoting process. This is especially important if you sell complex products with a dynamic pricing structure. A CPQ solution configured with the proper product rules can be programmed to ensure that prices and discounts are applied correctly to each quote.
It's no secret that sales teams are notoriously short on time, and using a CPQ configurator can free up a lot of their valuable time to spend on prospecting and connecting with customers. The CPQ system can streamline many administrative tasks, and configuring, pricing, and quoting products is a big bonus for any sales team.
Increased Productivity
A lot of work goes into configuring, pricing, and quoting. Sales teams aren't the only ones who need to get involved, and it can take a while for everyone involved to move forward with the process. A CPQ solution that allows the entire company to be involved decreases processing times and increases productivity across the board.
With a CPQ configurator like Tacton.com, the rules determining what is possible for customers are clearly defined. This helps to eliminate any potential conflict between what the customer wants and what's possible for the business. It also makes sure that the system doesn't stop any valid options that may not be financially profitable.
The software creates quotes that are accurate and easy to understand. This allows sales reps to focus on the customers, leading to better, more efficient interaction. It also enables the team to close more deals and improves customer experience.
Using a CPQ solution allows sales teams to be more effective with their time, which increases their ability to meet quotas. This makes them more able to engage with their prospects and convert them into paying customers. It can even lead to a rise in morale within the organization, which is always a good thing!
Increased Customer Satisfaction
The more accurately a quote is created and the faster it is delivered to a customer, the more likely the company will receive payment and fulfill the order. This will require collaboration between departments and a smooth process that allows sales and operations to interact easily.
With CPQ software, this can be achieved. This software can create a bespoke quote for each unique customer, taking into account their product specifications and pricing rules, and it will automatically generate this quote for the client. This process will save a lot of time and ensure accurate quotations.
Moreover, it will ensure that the prices are fair and not just discounted to win a sale. This can be hard to do with manual processes, as it can result in over-discounting products or losing revenue on the back end.
In conclusion, implementing a CPQ Configurator can increase customer satisfaction and improve your overall sales process. This is especially important for businesses with complex, specialized products with unique pricing models. The CPQ system will automate the configuration, pricing, and quoting process, helping to streamline this entire aspect of your business. Adding this software to your toolkit will help your team focus on what they do best – engaging with customers and closing sales.
Increased Revenue
CPQ software helps businesses give customers choices and manage the pricing for the enormous number of potential configurations that could result. This is a challenging balance between serving the customer well and not eliminating valid choices or making an order unprofitable. By carefully designing CPQ rules, it is possible to achieve this balance.
Integrated with product architecture and sizing, a CPQ system will ensure that customers are requesting the right products and that they fit their requirements. This can help manufacturers serve a broader market without increasing the cost of custom engineering or sacrificing quality or reliability.
With the CPQ Configurator, salespeople can be confident in their selling and quoting. They can also focus the customer dialogue on their needs and business outcomes. This increases the effectiveness of the sales process, improving the overall customer experience.
With a CPQ Configurator, companies can shorten their quoting processes from days and weeks to minutes and hours. This improves revenue opportunities and the competitiveness of the company. A CPQ Configurator also helps to eliminate manual errors in a quote, further increasing revenue opportunities. With 3D visualization and automatic generation of 2D drawings and CAD files, a CPQ Configurator will enable companies to offer their products to more customers more effectively. This is particularly helpful for large, complex products and services.